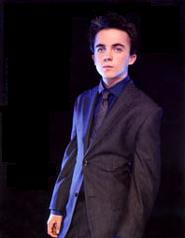 frankie (francisco muniz iv) was born on the 5th december 1985, in woodridge nj. at a young age frankie showed a talent for acting and soon had parts in several theatre productions including a christmas carol, the sound of music, the wizard of oz and our town. he continued to act throughout his childhood years appearing on tv shows and movies. but it was not until age 13 when frankie got the title role in malcolm in the middle that he shot to stardom. the first episode of malcolm in the middle aired in the us on the 9th january 2000, and was watched by 23 million people, followed by a massive 26 million viewers the next week. in 2001, frankie was nominated for a golden globe award in the category of best actor in a tv series- musical or comedy, against men two to three times his age! and he has never taken an acting lesson in his life!
frankie has done voice-over work on the simpsons and played a baby bear cub in doctor dolittle 2. he has had major roles in the feature films my dog skip, what the deaf man heard, and most recently big fat liar. big fat liar made about $50 million dollars at the us box office.
recently, frankie was in australia in april-may 2002, promoting his film big fat liar as well as malcolm in the middle. he was a guest presenter at the logie awards (australia's equivalent of the emmy awards) he also did several tv, radio and magazine interviews. he loved australia and said that he would like to live there one day.
a bit about frankie:
he lives with his mother and his older sister christina in la. frankie enjoys golf, basketball and music. he has been playing golf since he was 5 and has a 13 handicap. he's also a keen drummer and would like to own the l.a clippers basketball team one day. for his 16th birthday frankie bought the car from the movie the fast and the furious. complete with a playstation 2, tv, vcr and dvd player and more! in the future frankie would like to continue acting, though in the long-term future he would like to concentrate on his movie career. he would also like to have a go at producing and is thinking of the possibility of creating his own production company.